Your Hostess
Ruth Friesen





Discover the Vegetarian Lifestyle & Dramatically Improve Your Health!


Make Your KNOWLEDGE Sell! is THE BEST manual to guide you through brainstorming, developing and marketing your cookbook.





Are you a Work at Home Mom? Why not run an online Business site too!



Anything you know well (ie. your cookbook?) can be digitalized! Sell it!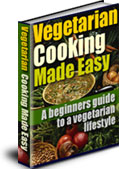 Welcome
You know how it goes - you have a new vegetable or fruit, and realize you don't know much about it, or have any good recipes for using it - so what do you (or I) do? We head for the computer and do a search. Sometimes we visit a whole bunch of sites before we find what we're looking for. Sometimes we find a gem of a site that has many things we're looking for!

If we're really blessed we come to a site that we know we can come back to over and over again, and just about anything we search for - is going to be found there. That's the kind of place we hope you'll find Just Good Cooking to be.

A time saver! A treasure trove of both recipes and cookbooks!

So bookmark this site right now. If you are a member at del.ici.ous or Flickr, or any of the other social bookmarking sites, do mark this site there too. That will help spread the word, so your friends will come here before too long.


We're Going to Be Friends
You know how it is when the kitchen fills up with friends and family who like to cook and bake, and eat, of course. Yes, the kitchen rings with merriment and good cheer, and are all glad we came.

I, your hostess, Judith, - (also known as Judy to my friends) - look forward to some great new friendship developing in this cyber kitchen!


Don't You just LOVE Cookbooks?
I've got a big stash of Cookbooks to show you! Best of all, they are PDF e-books, which means you can download them and have them on your computer in a matter of minutes! It doesn't take long to go through the PayPal step, and then you download, and as fast as you can click on it, and open it in your PDF Reader, you have access to all those recipes.

More than you probably need, so here's another great advantage of the PDF e-books; you only need to print out the pages that you really expect to use!

You will find links to the Cookbooks as they are prepared for display, sale, and downloading.


Just Let You at the Recipes?
Okay, if you're so eager - let's talk recipes!

This site has a database of recipes started, and we're going to fill it up quite full. You can help! To make it manageable, it is a Membership site. Later on, when the database has a lot more recipes in it, we'll be charging for access to it, but for those who want to help stock it with your favourite recipes now, we'll allow totally free access to those who take the simple registration steps.

You can come help yourself to the recipes you find there, and you can add your own - and to thank you, we'll see that you will always have a free membership. You will NOT be charged anything once we go to a paid membership setup.

The advantage to the database is that it will automatically file and index and cross-index the recipes. If we were to put them all on web pages manually, we'd be key-punching for a year of blue moons!

Now we do want to scatter some of the sample recipes from the cookbooks throughout the site, We want you to know we aren't lazy, really. But when you come to do a search, for say, strawberry-rhubarb squares, you want to get that before your eyes in a hurry. You may want to squeeze this in while your main course is cooking. No minutes to waste! - That's when we'll all praise God for this recipe database.


To Register
go to Membership Recipes and click on Login or almost any link. It will take you to the page for logging in, but you'll need to use "click here to register" the first time.

(Note: remember your username and password! Jot it in a permanent place)

After that you can view the recipes, add some, and even click a link that will show all those you have posted. - A great way to stash your recipes if you're always misplacing them. Or you can send your friends over to register and then they can copy your recipes without you having to do any more work. Clever, right? :)









HostGator works Great!


Get Practical Tips for Quickly & Easily Switching to a Meat-Free Diet & for Making Healthful Food Choices - at Home, at Restaurants, & Even While You Travel!









Get the most of your Windows Computer Join